CFD trading in assets online has a huge potential for earning great profits. However, the key is to apply the right strategies; alongside having a thorough understanding of the market trends. Online trading or building one's financial portfolio may be the means of earning additional income for many. And, for others, it may even be their sole income. Irrespective of the reasons, earning money via trading assets is not as simple as it sounds.
With proven strategies, expert advice from professional traders, market analysis, to name a few, is a means to successfully trading online. Nevertheless, finding all the trading assistance on a single platform may also seem impossible. But with proper research, you can find just the perfect online trading platform for lucrative returns.
AnalystQ, an online trading broker, is one such online trading platform that offers end-to-end trading opportunities involving a large array of trading instruments like cryptos, currencies,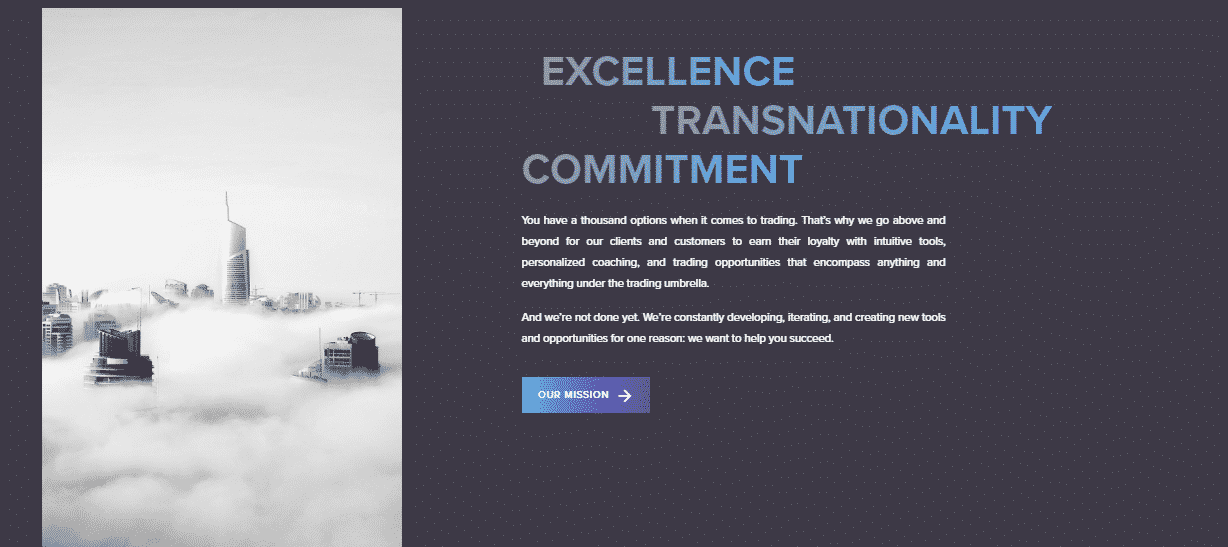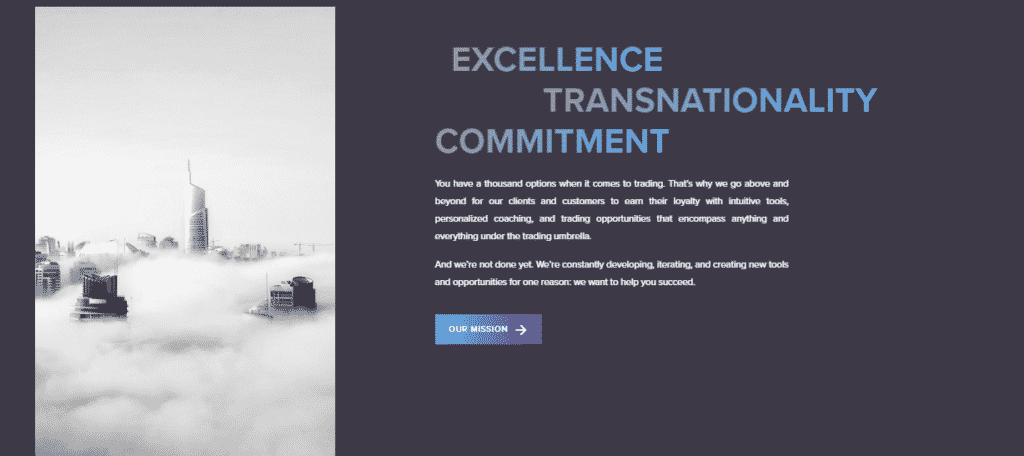 Introduction to AnalystQ
Popularly referred to as Q, AnalystQ, which is a web-based trading platform, was recently introduced sometime in February 2020. Nevertheless, it has already carved a niche in the stock market or trading industry in this short duration. With active users from over 160 countries around the world and counting, AnalystQ has more than 1600 trading assets, recorded as the world's largest.
AnalystQ is an end-to-end trading platform, which offers more than trading in assets. It offers trading related coaching, dedicated advisors having expertise in trading and market research. AnalystQ regularly enables its registered users to participate in high-end webinars and trading related programs.


About AnalystQ: Online Trading Platform
AnalystQ is an offshore asset trading broker or platform, which is based in the Commonwealth of Dominica. Although an offshore broker, many aspects make AnalystQ a holistic trading platform. Whether it is the easy, hassle-free User Interface or its speed and responsiveness, AnalystQ offers end-to-end trading solutions. The analyst.com offers educational courses and a plethora of other trading related services for both new and advanced traders.
Strategies, market analysis, and research determine success in trading. While most traders often fail to realize the significance of these key aspects, AnalystQ solves the dilemma as it employs analysts and strategists who provide up to date market information and last-minute proven strategies to help traders make informed financial decisions.
While the objective is to make profitable trades, AnalystQ enables users to seek advanced traders and successful professional traders. There is also the option of copy trading where traders can mirror the successful trading strategies of other traders.
AnalystQ Review: One Platform Multiple Facets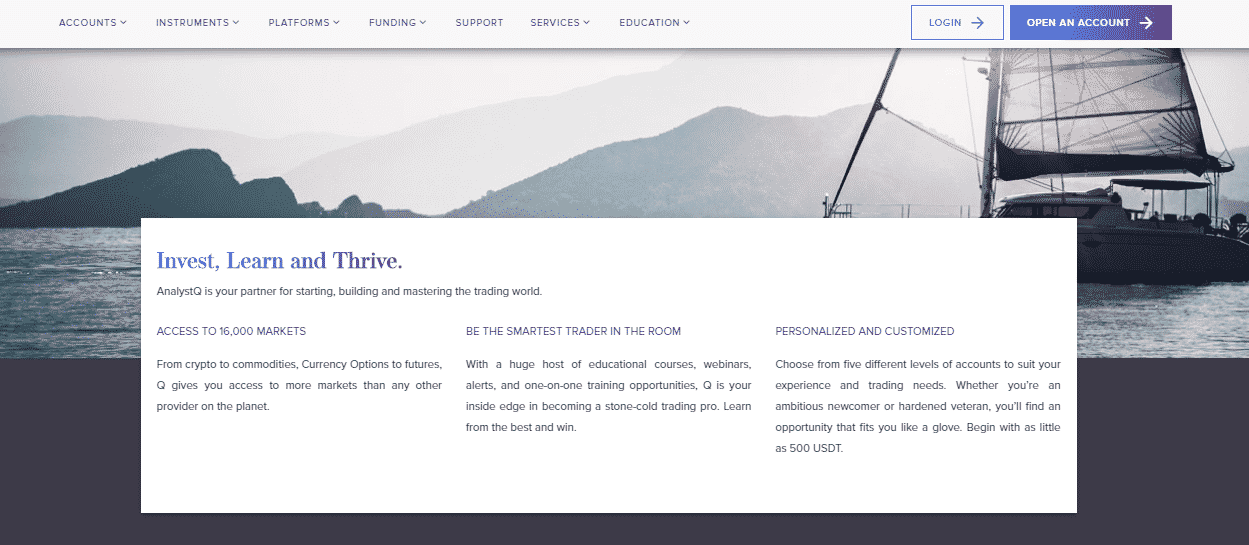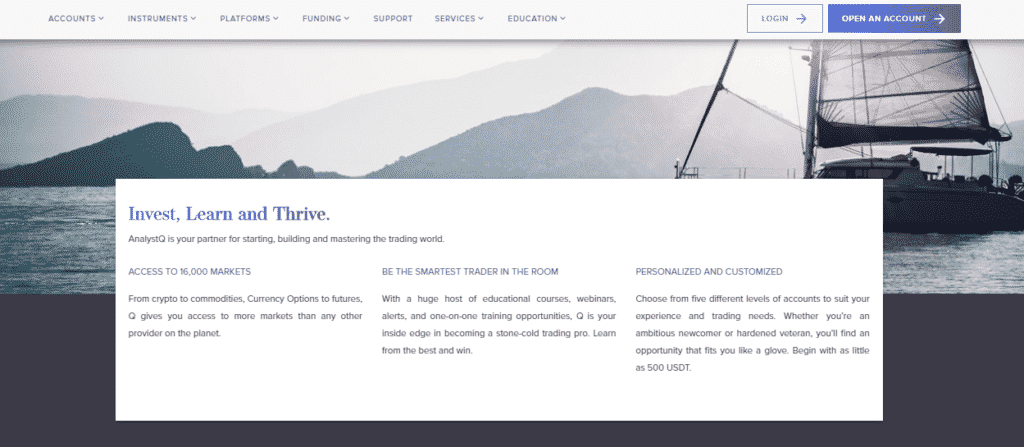 Most often, web-based trading platforms are pretty straightforward, where traders can either buy or sell their assets. While some of these platforms provide market updates, it is up to the traders to make informed decisions without the backing of proven advice from successful traders. Also, for lucrative returns on investment, it is vital to have a sound understanding of how it all works.
AnalystQ.com solves this dilemma as it enables traders to make informed decisions with regular market updates, trading strategies from expert advisors. The site also offers customized solutions based on the skill or experience level of the traders.
Overall, one can find everything related to trading, right from educational courses to supporting materials like webinars, trading tutorials and seminars, all under one platform.
AnalystQ Review: Services Offered
The following are the services offered to a broad spectrum of traders, depending on their skill levels or expertise.
Sales Trader for beginners or new traders
Often, beginners find trading tedious and confusing, especially when trading in new markets. The sales trader service offered by AnalystQ enables the users to get in touch with seasoned sales traders having expertise in analytical research. At the same time, the sales traders offer one-on-one analytical insights, right from market volatility to aiding in crypto funding.
In-house analyst for personalized portfolios
Right from market research to predicting the market volatility or fluctuations, the in-house analyst will provide you with accurate data to build a better financial portfolio. While the data provided is reliable, it also helps you make informed decisions for maximizing profits.
Dedicated relationship managers
Accessing the hidden costs and market fluctuations, especially the volatility of cryptocurrencies, is very crucial. While this requires a tremendous amount of research, traders often fail to calculate these risk factors. The dedicated relationship managers provide one-on-one support to traders, right from harnessing the market volatility to guiding you at every step for earning profits. Traders can reach their personal relationship manager via phone, email, or request to meet them in person. While AnalystQ is not limited to trading, your personal relationship manager will also help you acquire a better retirement plan.


Personalized Coaching in Trading
Having sound knowledge of trading assets is imperative when you wish to build a strong financial portfolio or earn profits irrespective of the market's stability. When traders are well-prepared with personal trading courses, they can develop effective strategies after honing their trading skills. The trading courses at AnalystQ enable self-learning as the training modules are designed such that you do not require ages to master them.
There are different types of traders with varying degrees of expertise or levels of trading skills. While they are broadly classified as for beginners, intermediate, and advanced traders, most of the trading platforms have one type of account irrespective of the trading skills. On the other hand, AnalystQ offers different types of trading accounts based on the traders' experience and the minimum funding requirements.
What are the types of trading accounts at AnalystQ?
For trading on AnalystQ platform, registration is a must. Users can, thus, choose from the following types of trading accounts.
1) Primary Accounts
These are the basic types of trading accounts ideal for beginners or new traders, further divided into the following tiers;
Standard Account: Requires minimum funding of 500 USDT or its equivalent BTC. Note: This is the minimum deposit required to trade at Q.
Education Account: Requires a minimum deposit bonus of 5000 USDT or its equivalent BTC.
Specialty Account: Requires minimum funding of 25000 USDT or equivalent BTC.
While all the three accounts share most of the features like trading multiple assets, regular market updates via WhatsApp, email, among others, only the users with Education and Speciality accounts can attend trading webinars.


2) Professional Accounts
Better suited for intermediate and professional traders, the professional account, is of the following two tiers.
a) MarginQ: Minimum deposit required to open this account is 75000 USDT or its equivalent BTC.
b) Platinum Account: Requires the minimum funding amount of 150000 USDT or BTC equivalent.
While Professional accounts share all the features of Education and Specialty accounts, some of the additional benefits include special invites to VIP trade events, weekly live trading sessions, and access to live webinars. Also, traders can seek a trade leverage of up to 300:1.
3) AutomatiQ Account
Also referred to as the autopilot trading account, it is suitable for advanced traders. Here traders have an additional advantage where they can start and start trade anytime. Traders holding this account can also discuss effective trading strategies with expert advisors. As the name implies, traders can run particular trading strategies, while the platform will carry out the trading in assets even without the trader's involvement, while the trader's funds are safe. The trading robots typically place trades based on the strategies created by the trader. Most importantly, the traders also can choose the trade sizes based on their comfort and preferences.
What are the Different Trading Softwares Supported by AnalystQ?
AnalystQ supports five trading platforms based on the device used by the trader. They are as follows;
One of the major advantages of AnalystQ is that traders can conduct trade on a myriad of devices like PCs, laptops, tablet devices, Android and iOS smartphones, etc. while the trading platform can be easily operated on Android, iOS, and Windows. Traders also have the convenience of either installing the AnalystQ trading app or accessing it via a web browser on compatible devices.
MetaTrader5 Trading Platform
While some of the tools in the MetaTrader5 platform are paid tools, most of the other tools are free to use. MetaTrader5 supports a plethora of trading assets, right from currency trading, Forex, cryptocurrency exchanges, financial markets, etc. The platform also supports AI-based trading robots that run on secure algorithms ensuring lucrative trading and investments. In fact, trading robots are very accurate and provide precise market data based on real-time research and analytical data.
Most importantly, MetaTrader5 features copy trading where the user can mirror or copy the trading strategies, sizes, and positions of any successful advanced trader in a broad spectrum of trading markets. Also, MetaTrader5 supports virtual hosting services for currency options VPS for Forex traders.
WebTrader Platform
Specifically designed for new traders or beginners, users can access AnalystQ's WebTrader on a myriad of devices. The WebTrader platform enables users to view and track trending assets in multiple markets. Though WebTrader, traders can gain access to trading history to research trading best practices and strategies. The platform enables easy user interface; multiple chart windows for comparative studies. WebTrader is a safe platform as it employs two-factor authentication or 2FA security login.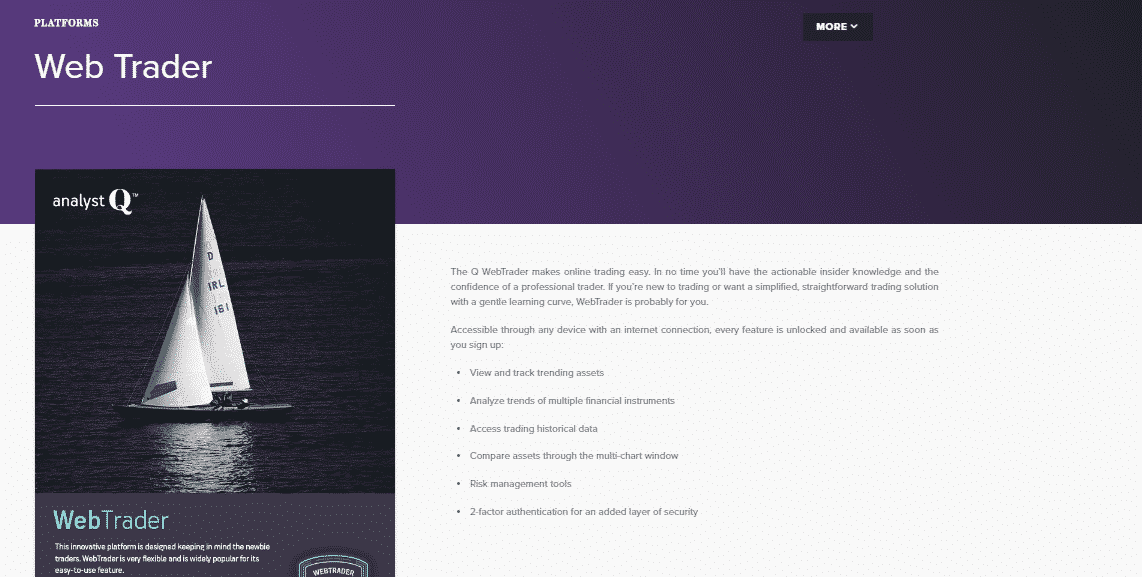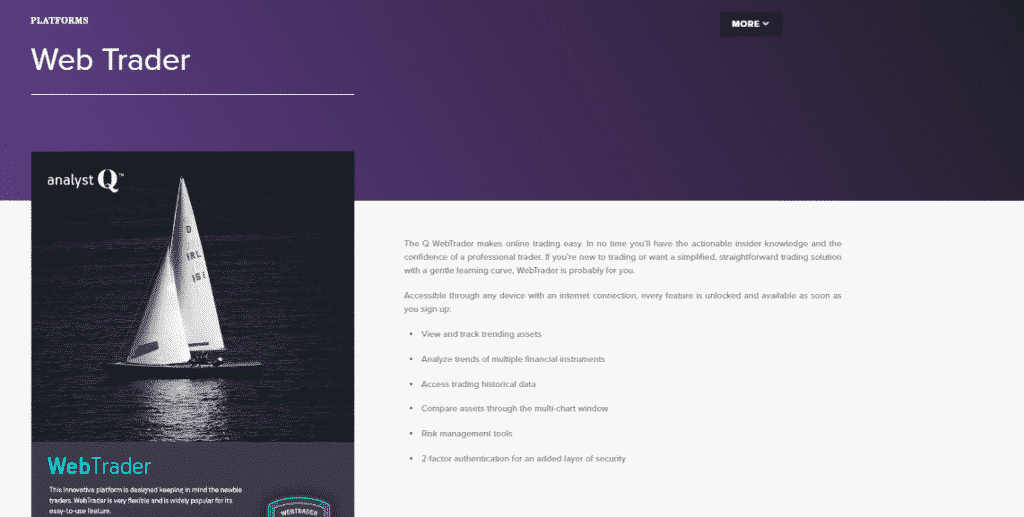 AnalystQ Android Trading App
As mentioned earlier, users can access AnalystQ on a broad array of devices. The Android trading app is easy to install on Android devices like smartphones, tablets, etc. While the application supports a seamless user interface, trading on the go is quite fast with the quick response time. Users can access real-time market data, while they receive market updates and current trends notifications 24/7.
AnalystQ iOS or iPhone App
For iOS devices, AnalystQ offers its iPhone or iOS app, where it is similar to the Android app in terms of the trading features and support offered for profitable trading.
Ideal for trading on the go using tablet devices, the Tablet trading app provides market insights and updates with real-time, live prices. Access and analyze real-time market data to strategize for lucrative returns with regular notifications on market trends and insights.
AnalystQ: Types of Trading Instruments
AnalystQ offers the highest number of trading instruments in the world, with over 1600 assets to choose from. The assets are typically categorized into currency options (crypto-fiat currency pairs), cryptocurrencies, energy commodities (both renewable and non-renewable commodities), soft commodities, and precious metals. Please note, AnalystQ enables 24 hours trading of multiple assets offered on the trading platform.
1. Currency options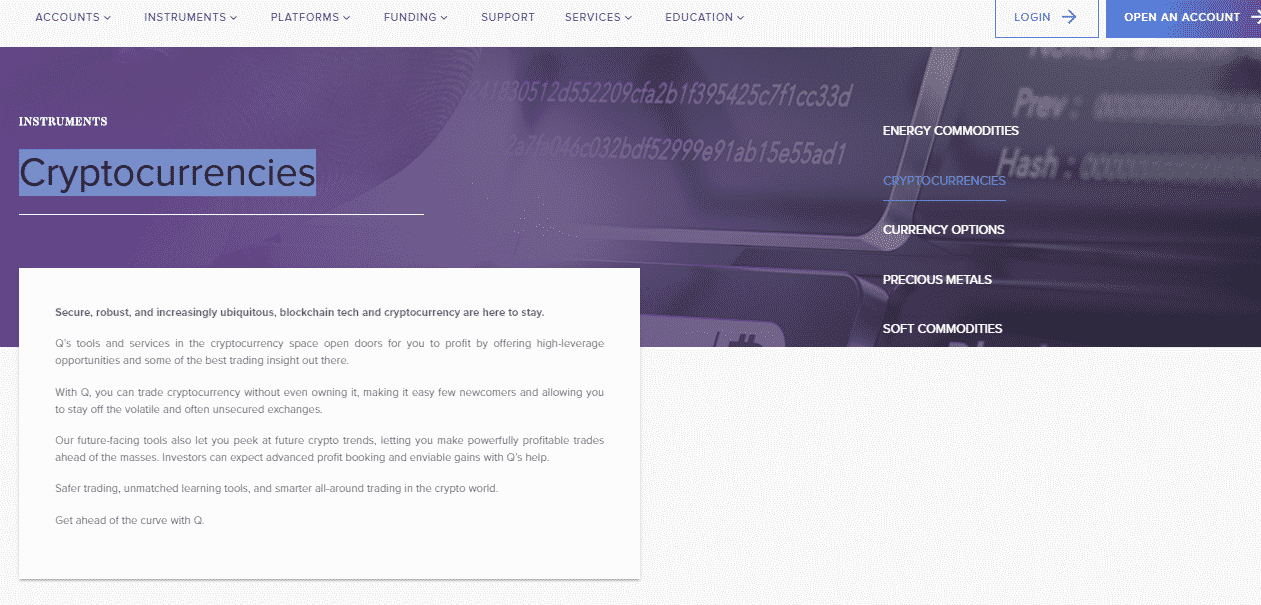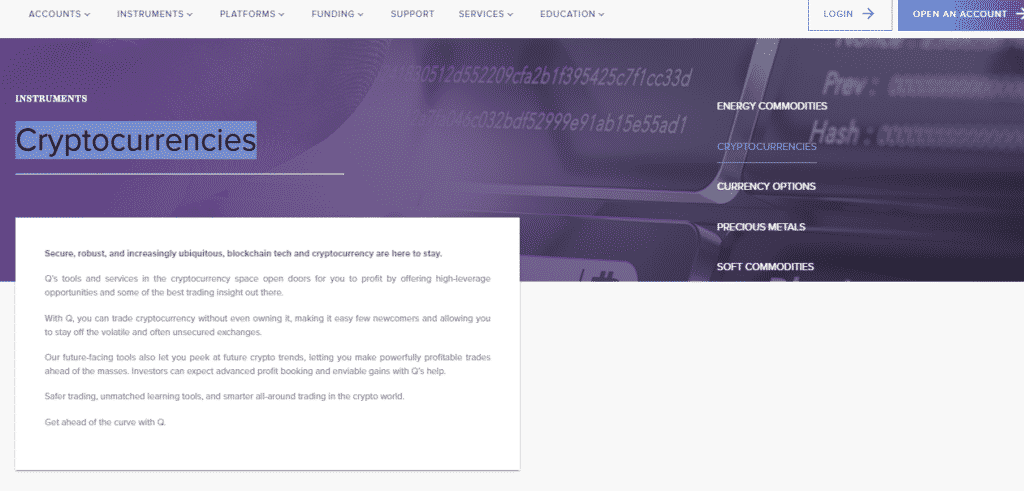 The Forex or foreign exchange market, also referred to as currency options, is the most widely traded instrument for profitable returns. While AnalystQ offers crypto-fiat trading options, the platform presently does not support Forex exchange involving only fiat currencies.
Some of the salient features of trading currency options at AnalystQ include and not limited to;
A multitude of pips across several currency combinations with tight pricing.
Maturity periods ranging from 24 hours to 1-year as per the user's preference and convenience.
Supports 24/7 trading of currency options
Real-time market analysis and expert advice.
2. Currency Pairs Supported
The platform offers the following currency pairs for trading;
BTC/USDT
BTC/EUR
BTC/GBP
BTC/JPY
BTC/CHF
BTC/ETH
ETH/USDT
ETH/EUR
ETH/GBP
ETH/JPY
ETH/CHF
3. Cryptocurrencies
While cryptocurrencies and blockchain technology are rapidly gaining popularity, they are still a highly volatile trading commodity. Nevertheless, trading in cryptos has a huge scope for making profits, provided one has proper knowledge or is backed by the best strategies and expert advice.
AnalystQ is ideal for traders who are new to cryptocurrency trading. The platform provides assistance and expert opinions and strategies at every step, helping traders make informed decisions to maximize profits. In fact, one can trade cryptos on AnalystQ even without owning the cryptocurrencies.
4. Precious metals
Trading in precious metals is one of the best means of diversifying one's financial portfolio. In fact, trading with precious metals is quite safe as the commodities' value will increase irrespective of market fluctuations or volatility. AnalystQ enables traders to trade CFDs on precious metals like gold, platinum, palladium, and silver.
5. Soft commodities
Soft commodities like coffee, cocoa, sugar, cotton, to name a few, are those commodities that never go out of demand. Also referred to as stable groups, users can profit by trading in soft commodities while diversifying their portfolio. While soft commodities are no risk commodities, traders can benefit even during downtrends via soft futures that can be shorted.
6. Energy commodities
Renewable and non-renewable energy commodities like solar energy, biomass, gas, coal, oil, etc. can be traded on AnalystQ. A lot must be considered while trading in energy commodities as these assets are priced as per the geopolitical relationships, changing weather patterns of the earth, economic conditions, among others. The key to making money using these fluctuations involves applying the right strategies. As AnalystQ provides constant support with expert advice, trading in energy commodities gets easier.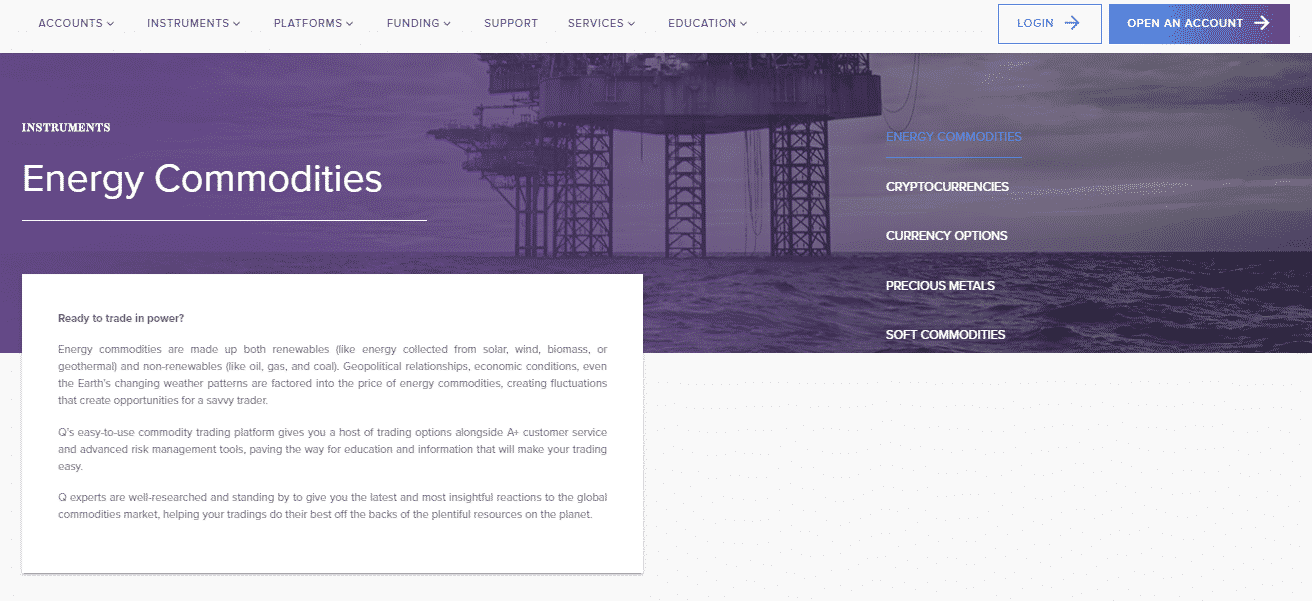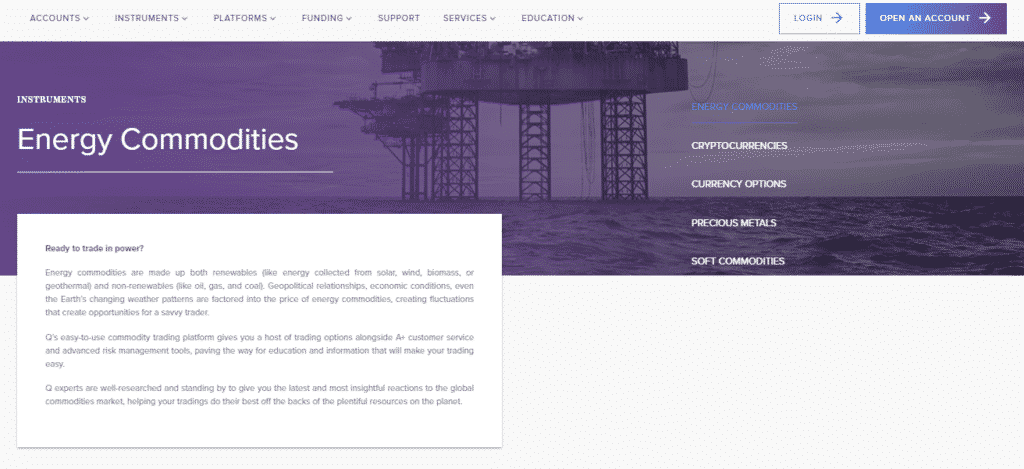 The key to successful trading is sound education or coaching in everything trading. As a holistic trading platform, AnalystQ offers a wide range of educational courses on trading. All the courses are handcrafted to meet the everyday challenges involved in asset trading.
Educational Courses at AnalystQ
While trading is all about applying the right strategy at the right time, it requires one to have proper knowledge and experience where trading of different asset classes is concerned. And, this can only be gained via educational courses. Some of the topics covered in the educational courses at AnalystQ include trading in commodities and cryptocurrencies, stocks, market trends, and indices. Here users can also benefit from real-world case studies and success stories.
Online trading courses:- AnalystQ offers flexible online trading courses suitable for new traders. The online courses have various modules and are suitable for users looking forward to making trading their full-time profession. Some of the topics covered include trading strategies for a plethora of assets, market indices, market study, to name a few.
Personal trading courses:- Ideal for intermediate traders to gain expertise in trading, the personal trading courses are delivered through seasoned traders and investment coaches. Apart from imparting trading secrets for lucrative returns, these mentors also aid users in building a sturdy financial portfolio. Learn the market through trading veterans with real-world case studies and strategies.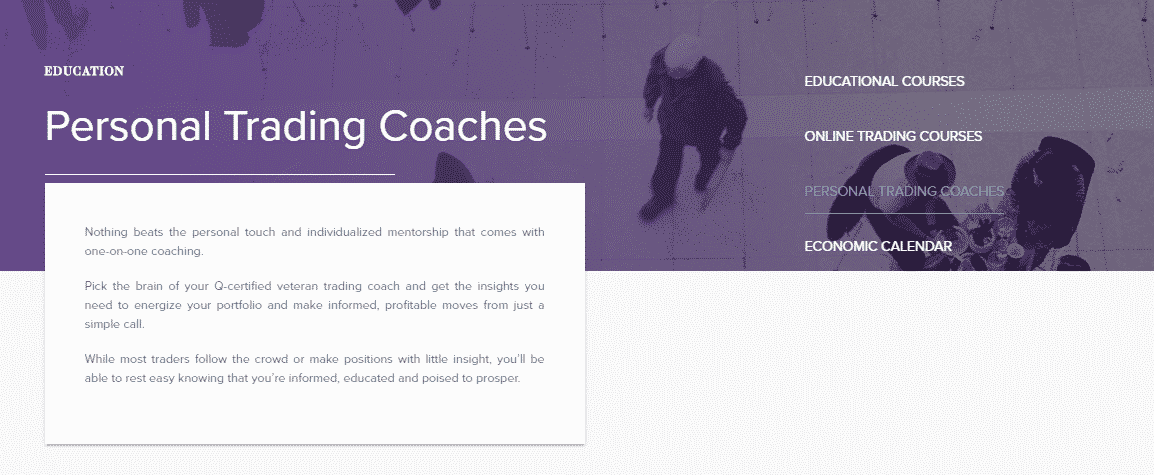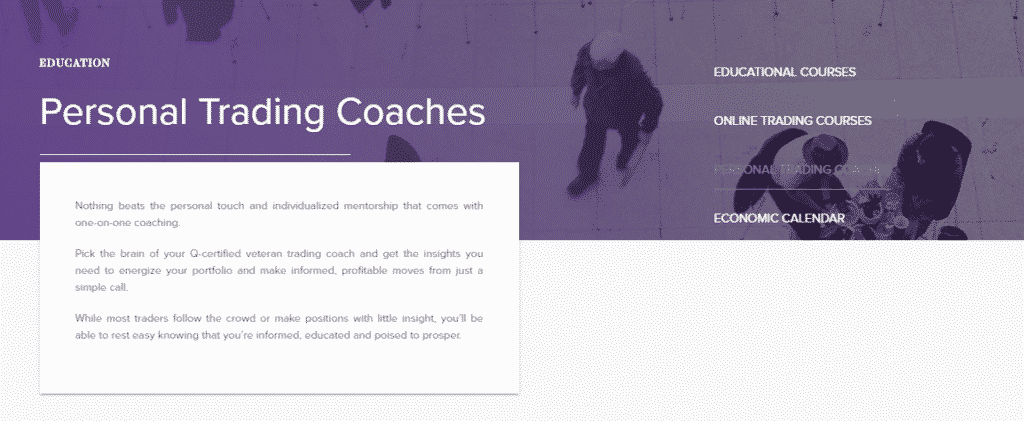 Trading involves capital funds. Users can trade and invest only when they have sufficient trading capital. In fact, there are many instances where a trader missed a lucrative trading opportunity due to the lack of funds. AnalystQ addresses this issue by offering funds to users running short of capital funds via loans at reasonable interest rates. So, what are the different types of loans and opportunities?
Crypto Funding Basics
AnalystQ offers leveraged crypto funding. While traders can apply for this leveraged crypto funding along with their own trading funds for monetary benefits, the former also offers stability to the highly volatile cryptocurrency market. Another added advantage of crypto funding is that the traders can purchase cryptos at a lower price when compared to its current price.
Margin and Leveraged Loans:- We have established the importance of capital assets in trading. Margin and leveraged loans offered at AnalystQ help users to trade in a myriad of assets even when they do not own the capital funds.
Margin loans:- AnalystQ offers risk-free margin loans against the user's securities for a fixed term. Here, the traders can liquify the securities for using them as capital funds. Typically, the margin loans at AnalystQ come with no loan closure fee, annual fee, and non-use and set-up charges. Margin loans are highly recommended for users looking to make a career in trading.
Leveraged Loans:- Leveraged loans are ideal for traders with low capital and also for those who have already taken risky loans for various purposes. AnalystQ offers leveraged loans at a comparatively low rate of interest, which one can use for purchasing assets and managing their debts. They can also use it to stabilize their trading balance sheet. Traders who do not have a healthy credit score or are ineligible for bank loans can apply for leveraged loans via AnalystQ.
Please note, when compared to margin loans, leveraged loans are high-risk loans with higher interest rates. Also, please read the supporting documents carefully to understand the terms and conditions of the various types of loans offered at AnalystQ.
Customer Support at AnalystQ
Most often, responsive customer support has been the key to choosing the best online trading platform. While AnalystQ offers 24/7 customer support, the platform also offers various means to reach the support team, which ranges from live chat to phone support.
Email support:- Traders using the AnalystQ trading platform can reach the support team at AnalystQ 24/7 either via phone, SMS, WhatsApp, Telegram, or email. Based on the specific user query, traders can send in their concerns to the addresses mentioned below.
Support via WhatsApp:- Most users prefer to convey their concerns via text messages through WhatsApp. AnalystQ offers 24/7 customer support where traders can send in their queries and concerns via WhatsApp. While it is highly secure, the queries are answered instantly.
Support via Telegram App:- The telegram is a cloud-based app, which is the most secure or private customer support system. Users can use this customer support feature to upload their documents and also for trading via the Telegram app. In fact, AnalystQ is one of the early online trading platforms to enable Telegram for both trading and customer support.
24/7 Phone Support:- Phone support is one of the most highly preferred means of contacting the customer support team. AnalystQ offers customer support via phone, enabling users to personally speak to the support team.
AnalystQ Review: Pros and Cons
| | |
| --- | --- |
| Pros | Cons |
| Offers over 1600 trading instruments. | No demo accounts |
| Multilingual 24/7 customer support via various platforms | Deposits and withdrawals in Bitcoins (BTC) only |
| MetaTrader5 trading software | |
Why choose AnalystQ?
Trading assets are a tricky business involving the application of the right strategies, market research, and analysis. Nevertheless, trading in various assets is the quickest means of earning money; thus, most often, people opt for brokerages or firms, which invest on their behalf.
However, trading platforms like AnalystQ provide opportunities for new traders and beginners to get acquainted with trading with expert advice at every step. AnalystQ offers education in online trading for both new and advanced traders. The site also features a plethora of trading software and apps for various devices.


AnalystQ is not only easy to use with quick loading time, but it also enables an intuitive user interface. While traders registered with this web-based platform can reach out to other experienced traders and expert advisors, they can also address their doubts and concerns immediately through multilingual customer support. Most importantly, AnalystQ offers the largest number of trading instruments with over 1600 assets to build and manage your financial portfolio.
Conclusion
AnalystQ is optimal for both new and advanced traders who are looking for hassle-free trading of assets 24/7. While the platform offers over 1600 assets for trading, it is the intuitive user interface and responsiveness that has made AnalystQ one of the popular trading platforms in more than 160 countries around the world.
Going beyond trading, AnalystQ also offers educational courses via the Q Academy. The platform also offers various types of loans for trading along with personalized trading support via dedicated sales support and relationship managers.
AnalystQ is one platform for all trading needs and support for traders of varying calibre. While AnalystQ offers personalized courses, traders can explore the platform for gaining trading expertise and to make use of additional resources like webinars and VIP programs.
FAQs
1. Is AnalystQ a legit site?
Ans.AnalystQ is an offshore broker or web-based or online trading platform based in the Commonwealth of Dominica. Although established quite recently in early 2020, AnalystQ has garnered quite the popularity as a safe and secure online trading platform.
2. What is the minimum deposit required for creating an AnalystQ trading account?
Ans. AnalystQ has the convenience of several accounts depending on the traders' expertise. Nevertheless, the minimum funding amount or deposit amount varies from one account to another. The Standard account requires a minimum deposit of 500 USDT or its equivalent BTC, which is the lowest when compared to the other types of trading accounts offered at AnalystQ.
3. What is Q Academy?
Ans. Q academy is a feature of AnalystQ where the registered users can log in to opt for the various trading related education courses offered exclusively at AnalystQ.
4. Does AnalystQ charge any deposit and withdrawal fees?
Ans. Users can withdraw and deposit at AnalystQ only with Bitcoin or BTC. While the withdrawals take up to three to five working days, the standard e-wallet and cryptocurrency exchange charges are applicable.
Apart from this, AnalystQ also charges a standard inactivity fee of 0.0040 BTC every month for dormant accounts that remain inactive for more than two months.