Selecting a reliable broker is one of the important things that any traders should bear in mind before they start trading. Among the top Forex and CFDs brokers mostly searched on the Internet, NSBroker stands out for many reasons. To know why NSBroker is gaining that popularity and whether this broker deserves to work with, let's find the answer in this NSBroker review.

About NSBroker
Regarded as one of the most reliable Forex and CFDs online brokers in Europe, NSBroker allows its traders, who mostly come from English, French, Italian, German and Arabic speaking countries, to access a variety of financial markets. The company was founded and operated by NSFX Ltd. in the Republic of Malta in 2011 with the vision of offering Innovative Trading Platforms, Innovative Trading Tools and Excellent Trading Conditions to clients. The provider is also famous for its credibility because all its operations are under the regulation of various reputable administrators from Malta, the UK and many more.
Financial Markets
The NSBroker trading platform provides investors with different trading services. Accordingly, they can choose to trade with more than 60 financial instruments from such five asset classes as forex, precious metals, energy carriers, indices and cryptocurrencies. Particularly:
Forex: provides 40 different currency pairs that are divided into three categories as majors, minors and exotics with the maximum 1:100 leverage ratio with the commission of $8 per lot. The tight spreads of major, minor and exotic pairs float from 0.3, 0.5 and 1.9 pips respectively;
Precious metals: allows traders to invest in spot gold and silver that are traded against the US dollar with the leverage of up to 20. The spreads of XAU/USD (Gold) float from $1.5, versus an extremely small figure of XAG/USD (Silver) at $0.02;
Indices: offers the most popularly traded major and minor indices across Europe, America and Asia markets. Retail clients can leverage their capital up to 20 times. The spreads of different instruments vary, for example, at least 2.5 AUD for AUS200 or the minimum 7 JPY for JPN225;
Energy carriers: clients can speculate on two popular spot commodities as Brent Oil and WTI Oil traded against the US dollar with the extremely competitive leverage rate of 1:20 and the spreads of $0.12 and $0.04 separately;
Cryptocurrencies: NSBroker gives traders the best cryptocurrency CFDs on Bitcoin, Ethereum, Litecoin, Bitcoin Cash and Ripple.
Regulators
Before retail clients start trading, considering a trustworthy and legitimate broker is always foremost. This is because brokers that are regulated by prestigious financial administration bodies can guarantee the security for a client's investments. As an international trading platform, NSBroker is supervised by various regulators from different countries as follows: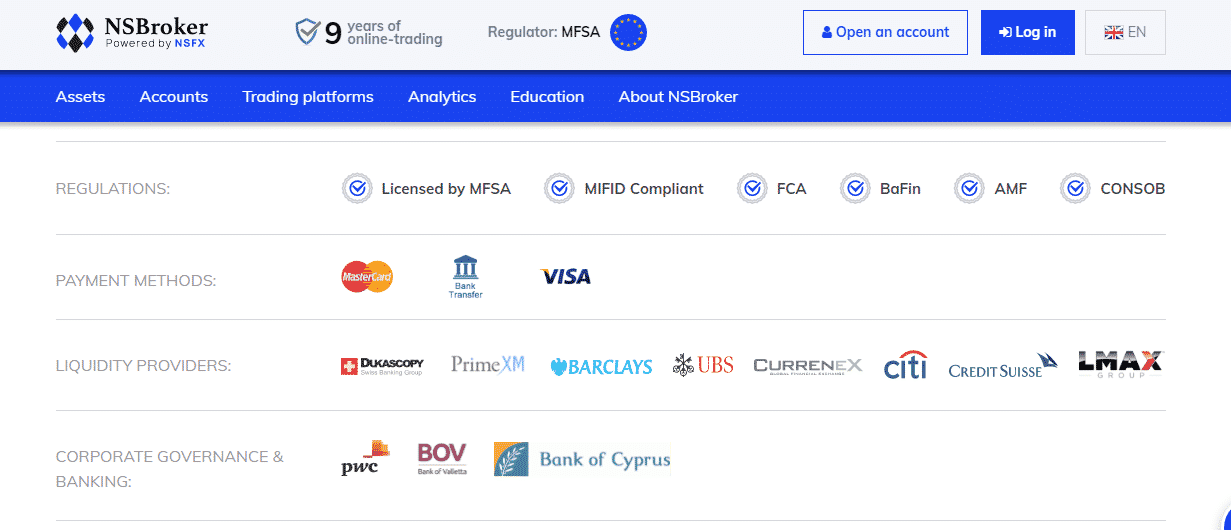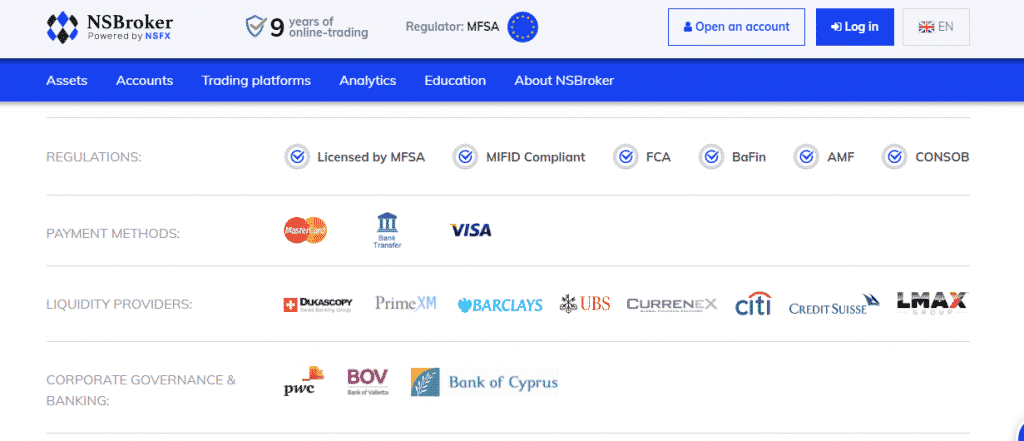 MFSA (Malta Financial Services Authority) in its host country, Malta – License Number IS/56519;
FCA (Financial Conduct Authority) – Registration Number 595195;
BaFin (Federal Financial Supervisory Authority) in German – Registration Number 131055;
ACP (French Prudential Supervisory Authority) in France – Registration Number 74397;
CNMV (National Securities Market Commission) in Spain – Registration Number 3354;
Finanstilsynet in Denmark – Registration Number 9221.
Policies of NSBroker
As a dependable broker, NSBroker makes all its policies transparent and public on the website. Before trading with NSBroker and depositing your initial money into an account, you are advised to read all terms and conditions to deeply understand your rights. Furthermore, NSBroker also offers other regulations related to:
Privacy policy: Normally, when you enrol for an account, NSBroker will require you to provide necessary credentials. Such private data will be collected and used for communicating with you via emails and allowing you to retrieve your past trading data by accessing the brokerage account. The broker commits not to disclose any personal information to the third parties unless legally required. Also, right after registering, you can use the privacy centre to manage services and third parties that the broker share data with;
Safety of funds: Under the regulation of MFSA, NSBroker complies with stringent rules to secure a client's data and money. The broker keeps all funds of investors completely segregated from the company's funds and saved in an independent investment bank to guarantee that their money will be reasonably used for trading purposes. NSBroker also robotizes the negative balance protection to observe transactions and risk management procedures, as well as prevent traders from debt;
Risk Disclosure: This review also warns you about potential risks you can encounter when trading forex and derivatives (including CFDs) with NSBroker, accordingly protecting you from big losses;
EU cookies policy: Cookies are small records that store data of clients. NSBroker will use cookies to optimize the user experience and the website performance by consenting the automatic log-in and proper right language without disclosing private information to other irrelevant parties;
Information security: NSBroker adopts a wide range of the best industry security practices (e.g. ISO 27001) to shield clients' data from thief and vulnerabilities. Accordingly, the broker will assure investors of no conscious or coincidental exposure, alteration or obliteration from outsiders, even administrations;
Conflict of interest: Conflict of interest in NSBroker takes place in irreconcilable circumstances where the broker or an individual trader abuses an authority or expert limit or acts against interests of other parties. Normally, NSBroker will use certain measures to monitor such situations. However, if those actions fail to do that, the broker will reveal the Conflict of Interest to clients so that they can mitigate the risk of damage to their interests;
Complaints procedure: NSBroker receives a positive review from traders for its transparent complaint-resolving procedure. When investors write emails or make phone calls, NSBroker's Consumer Complaints Manager will immediately respond with their grievances and even unveil how the broker plans to solve their problems;
Margin calls: Margin call is a requirement by NSBroker that investors should deposit more cash to cover potential losses. If an investor's equity equals or is lower than 50% of the used margin level, NSBroker will decide to liquidate some or all his open positions. For example, when you deposit $10,000, NSBroker requires you to have a margin of $2,500. Accordingly, if your equity drops below $2,500, NSBroker will send you a margin call alert so that you can sell some assets or deposit additional funds to avoid.
Advantages and Disadvantages
Advantages: Trading with NSBroker gives investors a wide range of benefits!
Dependability: The company proves reliable in providing trading services legally and guaranteeing that its clients will be protected by global administrators, typically Malta Financial Services Authority located in its home country;
Low spreads and commission: Normally, retail clients will pay those charges when trading with NSBroker. The spread which is the difference between the Bid and Ask price depends much on the asset's liquidity and the current market changes. Meanwhile, the commission for most instruments is fixed at $8 per lot, except for that of cryptocurrencies being 0.05% of the trading volume;
Margin trading: If you are a less-experienced trader, NSBroker encourages you to leverage your investment from 2 to 30 times depending on financial products. Any professional traders can use the leverage rate of up to 1:100;
Informative education center: Any clients can freely approach to learning resources as Forex and Trading glossary, video lessons, ebooks and other documents;

Superior support team: NSBroker wins a rave review thanks to its best customer services with 24/7 support and the ability to assist traders in 10 languages;
Fast execution: "99.9% of our orders are executed within 11.06 milliseconds," claimed NSBroker. This means the processing time of orders will be shortened and help mitigate problems regarding slippage and requote;
Safety: According to regulations of MFSA, data and money of retail clients are isolated from the company's funds and saved into an independent bank. Concurrently, all operational activities are under review of PwC to ensure its transparency and accountability. NSBroker also secures clients' accounts by automatically using negative balance protection to prevent their account balance from dropping to zero. More particularly, this tool plays an active role as a lifeguard to protect those who develop no money management tactics and ignore stop-loss orders;
Compensation scheme: One competitive advantage of NSBroker over other trading providers is its compensation policy. As a member of the Investor Compensation Fund which is founded to rescue clients of investment firms licensed by MFSA, NSBroker allows those eligible customers to be compensated for its inability to fulfil their duties and obligations;
Advanced trading platform: MetaTrader 5.
Disadvantages: NSBroker still has some cons faced by its clients
NSbroker offers no trading services to US citizens;
Although the leverage rates of up to 30 sound reasonable for beginners to keep their financial risks low enough to avoid big losses, financial specialists feel dissatisfied when they leverage their volume up to only 100 times;
There is only one type of trading account in NSBroker.
Trading Platform
In this NSBroker review, we should not ignore the important role of the MetaTrader 5 trading platform in trading currency pairs and other financial instruments. In addition to the web-based platform, NSBroker offers PC and mobile versions of MetaTrader 5 as well, so clients can get access to their account anywhere. Among all trading platforms, MetaTrader 5 is the most powerful and advanced, which adds more new features to facilitate technical analysis. Of which:
The charting system has 21 timeframes;
MetaTrader 5 trading platform offers 50+ technical indicators and 40+ graphical objects;
Clients can set up their algorithms for automated trading and customize charts to fulfil demands when trading on MetaTrader 5;
This user-friendly platform provides the economic calendar to inform traders about news more quickly;
Any newcomers can easily update trading signals from professional traders and establish parameters in the trading signals tab;
MetaTrader 5 provides a tool called a multi-threaded strategies tester in which the system will analyze the input parameters of clients based on the past market. Results indicate whether their current trading strategies are effective; otherwise, investors need to optimize their plans until it becomes better;
Another add-on of MetaTrader 5 is the depth of market (DOM) which shows the best bid and ask prices of a certain asset at present.
Account Types
1. Real Trading
As an ECN (Electronic Communication Network) and STP (Straight Through Process) broker, NSBroker gives clients only one ECN trading account. Many traders regard this as a disadvantage because they do not have a wide selection of accounts. However, this trading account allows real pricing, faster order execution and tighter spreads as it directly matches participants in currency markets via electronic communication networks. Having said that, when working with NSBroker, traders possibly open more than one ECN account and transfer their money between accounts without extra charges. Besides, two or more investors can choose to own a joint account, which means your beneficiaries can log in and administer the trading account of the host. When starting a real trading, traders will confront a set of different trading conditions with the minimum deposit of $500.
Firstly, beginners can leverage their deposit money up to 30 times, while professional traders can have the maximum 1:100 leverage ratio;
Moreover, thanks to the good association of NSBroker with numerous international liquidity providers (e.g. Dukascopy, Barclays or Currenex), bid-ask spreads of many financial products are set at 0.3 as the minimum;
Finally, this regulated broker also requires low commission fees; particularly, the charge for most instrument classes is set at $8 per lot as aforementioned, whereas that of trading cryptocurrencies is calculated by 0.05% of the trading volume. Compared to other providers, the broker provides a competitively low fee.
2. Paper Trading
Like other trading platforms, NSBroker also assists new traders to practice their trading strategies first on a free-of-charge demo account without risking their money. A demo account is a simulation of how the real-time financial market works. Accordingly, novice investors possibly get full access to five asset classes with more than 60 trading instruments. Trading with a demo account on NSBroker, they can:
Understand which trading conditions the broker offers them (e.g. spreads, assets, leverage rates, commission fees and other policies);
Trade with the volume of $20,000 on their demo account;
Get to know the importance of risk management techniques;
Trade with real-time market conditions in a risk-free environment;
Understand how different markets move;
Guides to Open an Account
This NSBroker review gives brief yet detailed instructions to help you open an account easily. The whole registration process only takes you around 15 minutes to complete. All you need to do is following those below steps and notes:
Step 1: Click the "open an account" button;
Step 2: Write up simple information related to your full name, email, a phone number that you are using, password, nationality and currency;
Step 3: Verify your account by uploading relevant documents, including:
A photo of your identification documents such as a passport or national identity card. Importantly, all 4 corners of the document and your full name have to be seen;
A photo of proof of your residences such as utility bills (produced within the previous three months), certificate of residence or bank statement (produced within the last six months). All 4 corners of the document, your full name, address and date have to be visible. Those documents can be submitted via email: help@nsbroker.com or by clicking the "Upload" button on the Settings section of the account dashboard. Additionally, investors can upload extra documentation if the broker requires.
For those who use a credit card for payments, they are required to submit a photo of two sides of the card. Of which, the first and last four digits of the card number, as well as the expiry date, should be noticeable. Meanwhile, you should cover eight middle digits and CVV.
Step 4: Invest with the minimum deposit of $500 by credit card (VISA, Mastercard, Maestro and Visa Electron cards are all accepted), bank transfer and e-wallets (Skrill and Neteller). The former payment is instantly executed, but the latter method can last three business days. Despite free deposit, some banks can charge you a currency conversion fee if your bank accounts are not in any currency that may not be offered by the broker.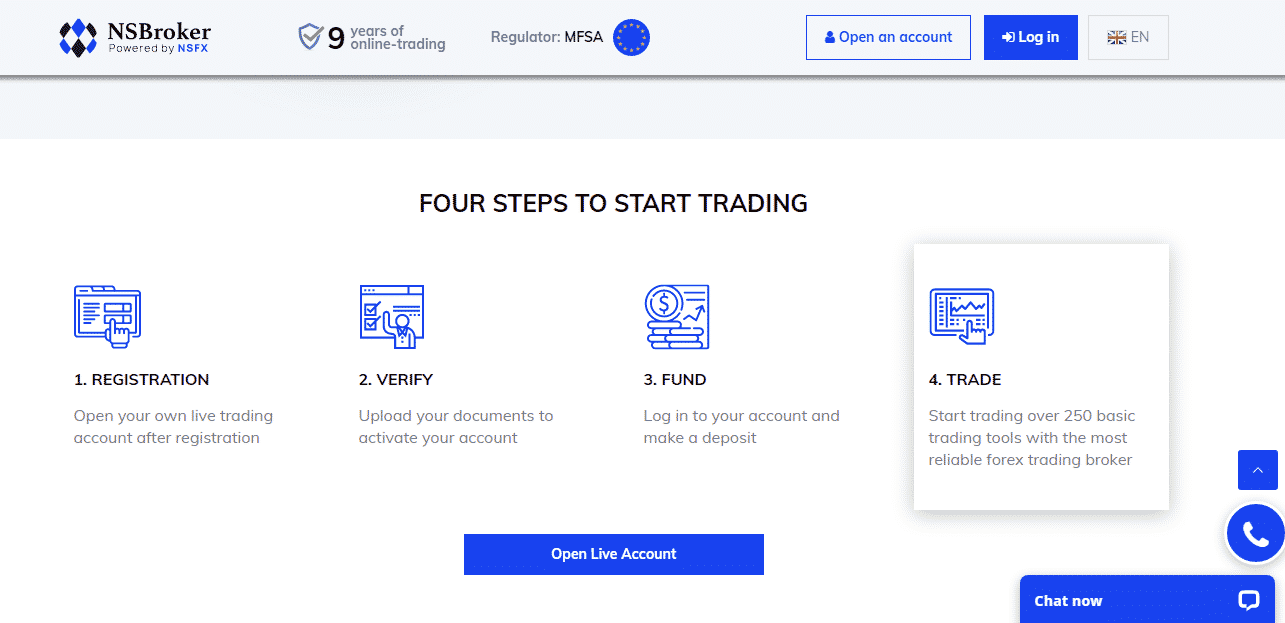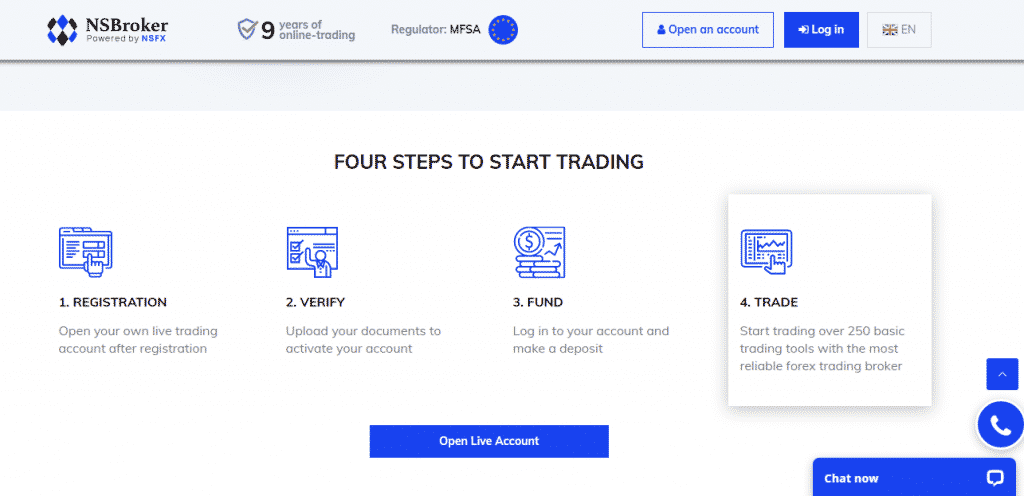 Withdrawal
Similarly to deposit, the withdrawal process also takes place on the same route. To withdraw money, you first click the "Withdrawal Request" button on the dashboard and then type how much you would like to take out. When the request has been completed, for those who use credit cards, it often takes the broker up to 1 business day for implementation. Meanwhile, taking money out via banks is processed within the maximum 2 working days. The withdrawal costs no fees, yet your payment solution provider can charge you some.
Client Training
NSBroker always wants clients to treat their trading work seriously, thus developing a comprehensive education system to equip them with the fundamentals of various financial markets.
More specifically, the Financial Glossary of the broker explains plenty of terminologies which are translated into 12 languages. A series of video lessons on forex trading are also given with the support of visual and audio examples so that new investors can understand different strategies. Further, a collection of e-books and documents are available on the browser. Even after registration and deposit, an analysis specialist is appointed to guide new clients and provide trading signals.
Research Tools
In addition to educational materials, NSBroker also brings newcomers a wide range of analytics and articles to facilitate real trading and money use of investors, including trading tools, technical analysis, investment strategies, financial news and forex economic calendar.
Customer Service
NSBroker has been recognised as a user-friendly broker because of its award-winning support team. There are various methods for traders to contact NSBroker's staff, involving live chat, phones and email.
| | |
| --- | --- |
| Live chat | Clients can click the blue button on the bottom right corner, then fill in personal information and wait for a call. |
| Email | help@nsbroker.com |
| Hotlines | +44 (208) 089-08-14 – London; +43 (720) 02-25-09 – Austria; +356 (27) 78-15-65 – Malta. |
| Working hours for technical support | 8 AM – 8 PM (GMT+3) |
Conclusion
This NSBroker review helps answer the common question of many new traders, "Is NSBroker a fraud or trustworthy broker to work with?" Obviously, NSBroker proves itself as a regulated broker that is licensed by various reputable administrators from six different countries. NSBroker offers an excellent support team, tight spreads of the minimum 0.3 pips and ultra-fast order execution.
Besides, the broker allows investors to work with the advanced trading platform as MetaTrader 5. Unlike MetaTrader 4, this latest version is embedded with more features and tools to facilitate trading activities. Although the minimum deposit of $500 required by NSBroker is higher than that of other brokers and this broker only provides one trading account, the provider is still highly recommended according to the review of many financial experts and traders.
More particularly, it publishes transparent policies to protect the privacy and security of a client's money and has negative balance protection to deal with unexpected risks. However, as reported by NSFX Limited, three-quarters of its retail investors have lost money over the last 12 months when trading with the company.
The culprit does not come from the broker. CFDs trading is complex in nature and can be accompanied by a high risk of losing money if traders do not have a specific trading goal and plan. Choosing the best broker cannot help them to always succeed. So this NSBroker review does not show you the way to get 100% achievements but provides enough information for you to take advantage of this broker to increase the win rate. Therefore, when it comes to the top brokers in Forex and CFDs trading, NSBroker is one of the worth considering candidates.